Tomahawk vs Axe: Know the Difference
You know, I've always been a bit puzzled about the whole tomahawk vs axe thing. I mean, aren't they both just tools you use to chop stuff? But recently, I realized that there's more to it than meets the eye. So, let's dive into this whole tomahawk vs. axe comparison together and figure out what makes them different.
Tomahawk vs. Axe Comparison
| | | |
| --- | --- | --- |
| Feature | Tomahawk | Axe |
| Origin | Native American tool and weapon | Ancient tool and weapon |
| Head Material | Stone, bone, antler (historically); metal | Metal (historically wood and stone) |
| Purpose | Versatile, including throwing and combat | Primarily for cutting, chopping, and splitting wood |
| Length (shaft) | Typically shorter (about 2 feet) | Longer handles for increased leverage |
| Weight | Lighter (9 to 20 oz) | Heavier for effective woodwork |
| Blade Shape | Wide and compact, often with extra features | Designed for efficient wood-cutting |
| Modern Use | Camping, throwing, combat | Woodwork, forestry, general-purpose |
| Modern Variations | Vietnam tomahawks for combat | Specialized designs for different tasks |
| Handle Material | Traditionally wood; modern materials used | Wood, fiberglass, or plastic |
| Haft Shape | Often straight with circular cross-section | Curved for better grip and swinging |
In summary, while both tomahawks and axes serve as tools with sharp blades mounted on handles, their differences lie in their origins, purposes, and designs. Tomahawks are lightweight and versatile tools historically used by Native Americans and adopted for various modern uses. In contrast, axes are specialized tools primarily intended for wood-related tasks, featuring longer handles and heavier heads designed for efficient woodcutting.
Axes
Husky 3.5 lbs. Premium Single-Bit Michigan Axe
Features:
Multi-Purpose Wood Cutting: Perfect for cutting and chopping kindling, branches, firewood, and major wood-cutting projects.
Durable Fiberglass Handle: Double injection fiberglass handle provides strength and durability, with a TPR soft handle for a comfortable grip.
High-Quality Specifications: Exceeds ASME specifications, featuring overstrike protection, a Michigan-style axe head, and a 4.5-inch cutting-edge height.
Ragnar Viking Battle Axe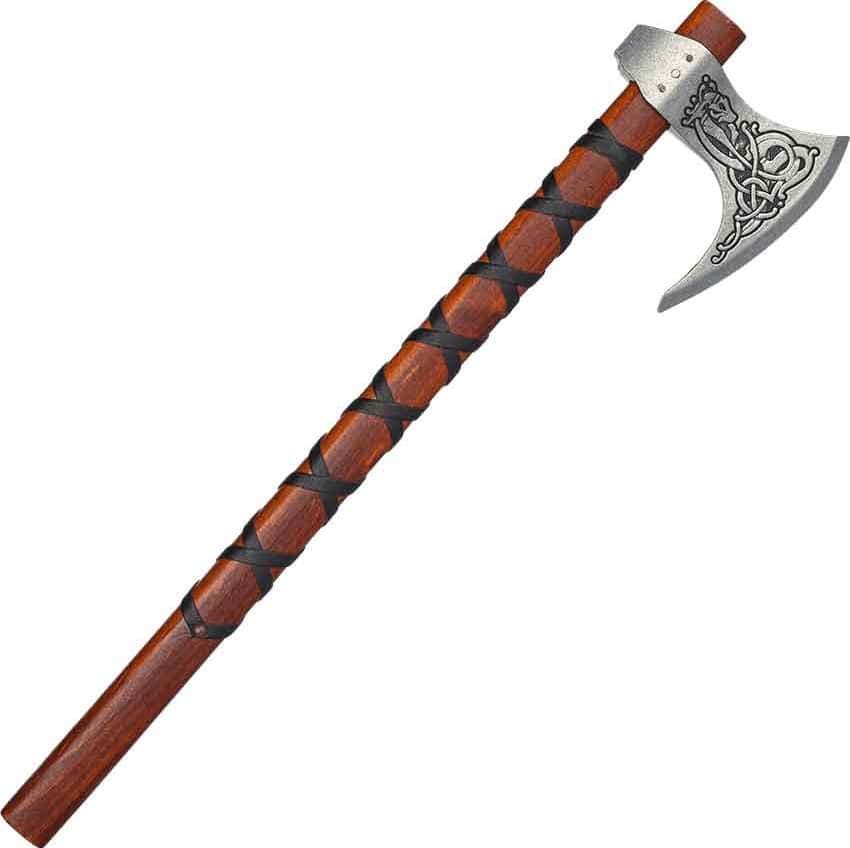 Features:
Decorative Viking Design: The Ragnar Viking Battle Axe is intricately designed with engraved animal knotwork, making it a striking addition to any collection or decor.
Bearded Blade: This battle axe features a bearded blade with a unique concave curve on the top and a steeper curve on the bottom, providing a distinctive look.
Quality Materials and Measurements: Crafted with a zinc alloy blade and a wooden haft, it measures 23.5 inches in length and weighs 1.4 pounds, making it suitable for both display and costume use.
Axe of the Valkyries
Features:
Decorative Axe: The Axe of the Valkyries features an intricate double head inscribed with Viking runes and symbols, making it a striking decorative piece.
14th-Century Italian Replica: This fantasy axe is a historically inspired 14th-century Italian replica, adding an authentic touch to your collection.
Made from Zamac: Crafted from durable Zamac, this axe measures 28.5 inches in overall length and weighs 3 lbs. 7 oz., making it suitable for wearing or displaying in your collection.
Tomahawks
Estwing Black Eagle Tomahawk
Features:
Lightweight Design: Designed for outdoor enthusiasts and military professionals, the Estwing Black Eagle Tomahawk features a lightweight design, making it easy to carry.
Solid American Steel: Crafted from a single piece of American forged steel, ensuring durability and strength.
Shock Reduction Grip: Equipped with a Nylon Vinyl Shock Reduction Grip® handle for improved comfort and control during use.
M-Tech Tomahawk
Features:
Compact and Versatile: The M-Tech Tomahawk Slash is a tactical axe designed for camping and kindling tasks, with a compact 14.25″ size.
Durable Stainless Steel Construction: It features a sturdy stainless steel construction with a black stonewash finish for the axe head and sharpened spike.
Secure Grip and Portability: The axe comes with a black rubber handle for a secure grip, a lanyard hole, and a black nylon belt sheath, making it easy to carry and use outdoors.
Hogue Knives EX-T01 Tomahawk
Features:
Lightweight Skeletonized S-7 Tool Steel Head: Swift and efficient for chopping and slashing tasks, with the option for additional attachments.
Durable G-10 Handle Scales: Offers a secure grip, high resistance to damage, and chemical/moisture protection.
Convenient G-10 Sheath with Embedded Magnets: Provides secure and quick accessibility, with customization options and powerful magnets.
Conclusion
Alright, after digging into the tomahawk vs. axe mystery, it's clear that they each have their own specialties. Think of it like this: the tomahawk is your go-to for light, nimble jobs like camping and throwing contests. On the other hand, the axe is your heavy-duty buddy for tasks like chopping logs and taking down trees.
So, if you ever find yourself in a situation where you need to choose between these two, just remember what we've talked about. It's all about picking the right tool for the job. Happy chopping!