Shop the Best Filipino Bolo: From History to Your Hands
Unsheath your curiosity and embark on a journey through time and steel as we delve into the world of the Filipino bolo. From the jungles of history to the palms of your eager hands, this article is your ticket to a slice of cultural heritage and craftsmanship.
Whether you're a seasoned collector or just someone who appreciates the allure of a finely crafted blade, get ready to explore the fascinating fusion of history and utility that the Filipino bolo brings to the table.
Best Places to Shop for a Filipino Bolo
BladeHQ
Unveil a knife store of legendary proportions with Blade HQ, where knives are a way of life. With physical locations in Utah and Virginia, they've blossomed into a flourishing online retailer and a brick-and-mortar store hub.
Specializing in high-quality (yes, "HQ" as in high quality) knives, Blade HQ curates an impressive array of folding pocket knives, military blades, butterfly knives, automatic knives, and traditional cutlery. If it's a knife, chances are they have it.
Their devotion to knives runs deep. Blade HQ aspires to be the most legendary knife retailer in the Universe – a lofty goal, but their dedication knows no bounds. From spotting pocket clips in public to striking up conversations about people's carried knives, they're immersed in the world of blades. Their desks are adorned with the latest blade magazines and manufacturer pamphlets. Do Blade HQ employees dream of electric knives? Absolutely.
Dedicated associates in Utah and Virginia meticulously handle product selection, packaging, and order shipments. They're always at your service, whether it's a phone call, a chat on the website, or an email. They even go the extra mile, hand-drawing pictures on your boxes!
In 2003, a knife aficionado launched BladeHQ with a dream and a small loan. Over the years, it expanded, gained partners, and carved its niche within the knife industry. Blade HQ's foundation remains the same – passion for products and excellence. Dive into the world of knives with Blade HQ, your go-to destination for Filipino bolos and much more.
My Top Filipino Bolo Pick from Blade HQ
Gerber Gator Bolo Machete
Features:
Enhanced Chopping Power: Distinctive bulge adds weight to the fore-blade, providing extra chopping force.
Durable Construction: Made from 1055 steel with a full-tang design for lasting strength and reliability.
Comfortable Grip: Ergonomic Gator Grip handle ensures comfortable and secure handling.
Convenient Sheath: Nylon sheath with belt loop and d-loop for easy and safe carrying.
Practical Dimensions: Overall length of 22.50″, blade length of 15.50″, and a weight of 1 lb. 4.80 oz., suitable for camp and hike use.
Kult of Athena
If you're a fan of Filipino bolos and all things sharp and exciting, look no further than Kult of Athena. Whether you're a history buff or just fascinated by cool weapons, this is the place to be.
Kult of Athena is like a treasure trove from different parts of the world and throughout history. It's not limited to a specific time or place – they've got you covered whether you're into ancient battles or World War II.
Imagine a chest overflowing with amazing goodies. That's Kult of Athena. They pick out the coolest stuff, including famous blades crafted by experts like Hanwei, Angus Trim, and Cold Steel.
But it's more than just a store. It's a hub where fellow weapon enthusiasts gather. Whether you're browsing their real-life warehouse in Chicago or exploring their online shop, you'll sense the love they have for these pieces of history.
They're not just selling things – they're helping you discover your dream weapon. With their expert advice and a dash of humor, they're here to ensure you get the best value and exactly what you're looking for. Think of them as your knowledgeable friend, guiding you through the world of amazing options.
My Top Filipino Bolo Picks from Kult of Athena
Cold Steel – WWII Filipino Memorial Bolo Sword
Features: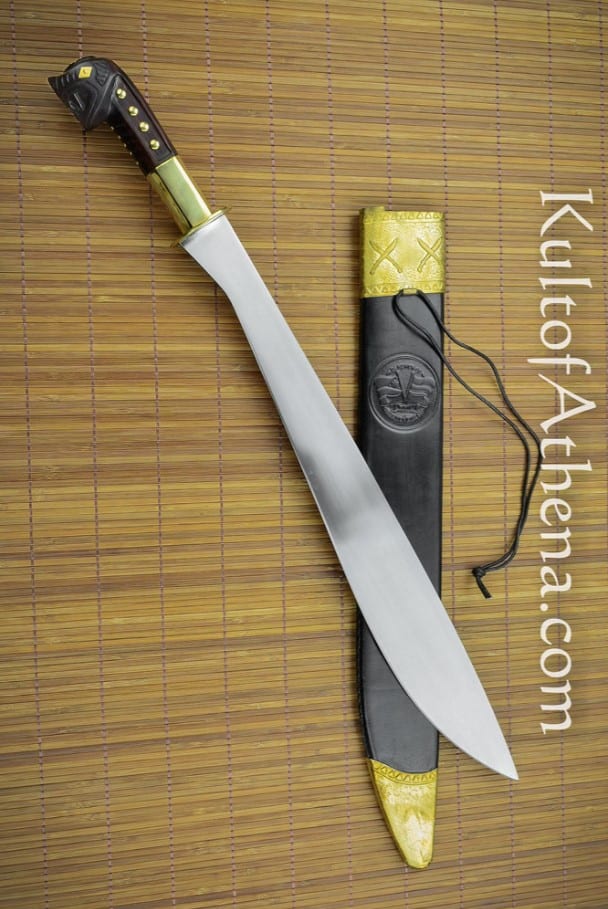 Commemorative Design: Created by Cold Steel, this Filipino Bolo Sword honors WWII and Korean War Filipino soldiers who fought for the USA.
Philanthropic Contribution: Cold Steel donates 10% of profits from each purchase to the Filipino Veterans Recognition and Education Project, supporting surviving veterans.
Inspired by Tradition: Designed based on a Filipino Talibong sword from Guru Dan Inosanto's collection, a historically significant weapon used by Filipino servicemen.
Versatile Performance: The sharpened 1055 high carbon steel blade with an elongated tip delivers powerful cutting and slicing performance, influenced by traditional Filipino designs.
Intricate Craftsmanship: Crafted with attention to detail, featuring a Rosewood hilt adorned with brass accents, a brass guard disc and bolster, and an embossed leather scabbard bearing the seal of the Philippines and the United States.
Panay Tenegre
Features:
Swift Chopping Blade: Combines the strength of 5160 and D2 high carbon steel with a tempered hardness of 58-60 HRc for effective chopping.
Durable Construction: Thick spine provides strength and rigidity, while the keenly honed slicing edge ensures sharpness.
Antiqued Aesthetics: Features an antiqued steel bolster and hilt, paired with a skillfully carved Adaan wood grip for a classic appearance.
Secure Scabbard: Comes with a carved wood scabbard adorned with rattan bands and an antiqued steel spring retaining clip, ensuring secure sheathing.
Balanced Design: With a wide striking region and quick responsiveness, it delivers substantial chopping power, following the design from the Visayan region in the Philippines.
Etsy
Etsy, the lively online marketplace where creative minds unite, is your next destination for exploring incredible Filipino bolos. Inside this virtual market, a community of talented artists and sellers come together to showcase a fantastic variety of finely crafted blades that cater to different tastes.
From beautifully hand-crafted replicas of olden times to incredibly detailed fantasy-inspired creations, Etsy is your gateway to discovering bolos that are not just weapons, but also pieces of art.
On this platform, you can directly talk to the people who make and sell these bolos. It's like getting to know the story behind each blade – how it's made, what inspired it, and the history that makes it special.
Whether you're into the charm of historical accuracy or the magic of imaginative designs, the bolo sellers on Etsy bring together skills and imagination. They create a shopping adventure like no other, perfect for collectors and fans alike.
My Top Filipino Bolo Picks from Etsy
Bolo Made From 8670 Steel
Features:
High-Quality Material: Crafted from durable 8670 steel for exceptional strength and longevity.
Cold-Blued Finish: Stylish cold-blued finish adds both aesthetic appeal and rust resistance.
Ergonomic Handle: Handle made from firedog burlap micarta offers a comfortable grip and enhanced control.
Handmade Leather Sheath: Includes a meticulously crafted leather sheath, handmade by Anne, for safe storage and easy carrying.
Precision Dimensions: Overall length of 17 1/2″, blade length of 13 1/4″, and a blade width of 2″ at the widest point, with a blade thickness of .10 for optimal cutting performance.
Handmade Damascus Steel Bolo
Features:
Elegant Design: Feast your eyes on the classy design of this elegant handmade knife, adding a touch of style to your collection.
Ergonomic Handle: The exotic wood handle is designed with attention to detail for a comfortable grip, featuring traditional file work on the back for an anti-slip benefit.
Rust-Resistant Quality: Crafted from premium quality Damascus steel, this hunting knife is rust-resistant, ensuring durability for years of use.
Multifunctional Versatility: With a wide range of uses, this knife is perfect for camping, hiking, hunting, survival, emergencies, and more.
Thoughtful Gift: Packaged in a gift box, this practical and beautifully crafted knife makes for a thoughtful and versatile gift for your loved ones.
Conclusion
From its roots in the heart of the Philippines to its place in modern collections, the bolo remains a slice of history that continues to resonate. So, if you find yourself captivated by the allure of this iconic blade, don't hesitate to seek out a piece of history to call your own.
After all, why just read about history when you can hold it in your hands? Shop the best Filipino bolo and let history become a part of your personal collection. Happy slicing!