Cane Sword for Sale – Best Places to Buy
Looking to add a touch of elegance and practicality to your collection? Explore the world of cane swords and discover a hidden realm of concealed weaponry and stylish accessories. These unique tools, seamlessly blending form and function, have a rich history that spans centuries.
We'll unveil the best places to find a cane sword for sale, ensuring you find the perfect blend of craftsmanship, design, and utility for your needs.
What is a Cane Sword?
A cane sword is a discreet yet deadly weapon concealed within the guise of a walking stick or cane. These ingenious devices have a rich history, dating back to the 18th century. They gained popularity among the upper class, providing a means of self-defense while adhering to the evolving social norms that discouraged openly carrying swords.
The construction of cane swords typically involves a shaft made from materials like Malacca wood, with rounded metallic grips. However, modern versions feature exquisite designs, including sterling silver handles and various wood options, such as Malacca and bamboo.
These canes may even sport intricate carvings like animal heads or emblems, enhancing their aesthetic appeal. Hidden within these unassuming canes lies a rapier-pointed blade, ready to spring into action when needed.
Note: Carrying a cane sword is illegal in several jurisdictions due to its concealed and disguised weapon nature. Some U.S. states, such as Arkansas and California, explicitly prohibit cane sword possession under specific statutes. In other states, they may fall under the general ban on carrying concealed weapons or any weapon designed to hide its true form.
Best Places to Find a Cane Sword for Sale
Kult of Athena
Kult of Athena is the go-to destination for historical replica enthusiasts. They offer an extensive selection of swords, edged weapons, armor, and more from various cultures and eras. With a focus on quality, competitive pricing, and excellent customer service, Kult of Athena has become a trusted source for collectors worldwide. Their exclusive brands and commitment to transparency make them a top choice for historical replica enthusiasts.
My Favorite – Dragon King – Taiji Sword Cane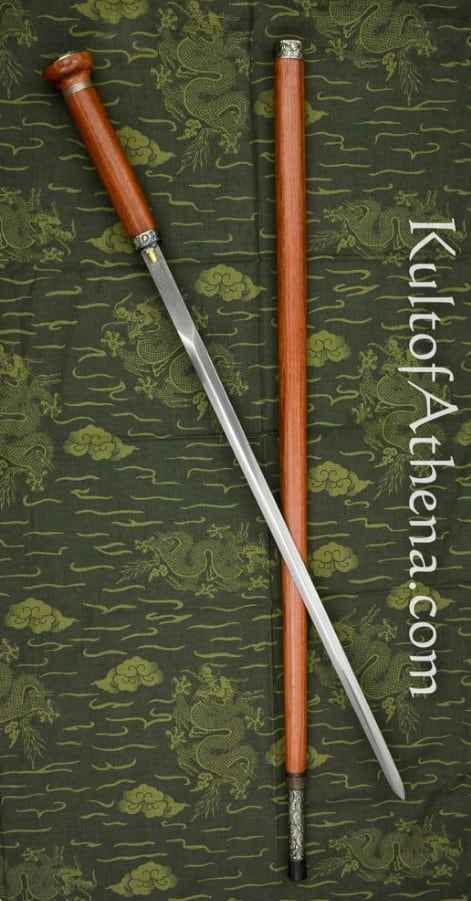 Features:
Damascus Steel Blade: Crafted with a tempered blade made from damascus steel, known for its distinct layered patterning reminiscent of rippling water or wood grain.
Elegant Design: The grip and cane scabbard are meticulously fashioned from polished rosewood, complemented by antique-finished metal castings featuring intricate, far East-inspired designs.
Decorative Pommel: The pommel of the cane showcases a Yin and Yang motif carved from mother-of-pearl, encircled by an intricate disc adorned with entwined dragons.
Hidden Knife: Concealed within the cane is a sharp steel-bladed hidden knife, with the metal bottom and rubber cap serving as its grip. It can be easily removed by unscrewing its release.
Protective Accessories: The sword cane comes complete with a protective cloth sword bag to ensure safe storage and transport.
Cold Steel
Cold Steel is a renowned knife and tool company committed to creating the world's strongest and sharpest knives, swords, and a wide range of everyday carry tools. With over three decades of innovation, they've set industry standards with features like Kraton® handles and the Tri-Ad™ Lock mechanism. Trusted by military, law enforcement, and martial arts communities, Cold Steel delivers tried and tested products for enduring reliability.
My Favorite – Aluminum Head Sword Cane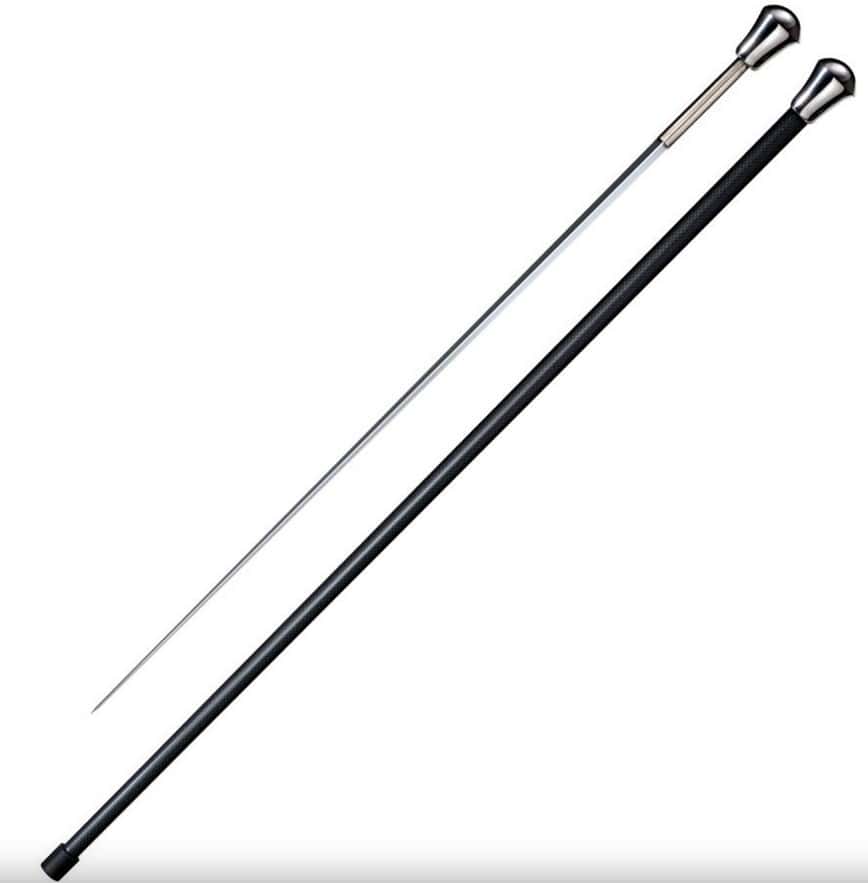 Features:
Elegant Design: Resembles the stylish City Stick cane, adding a touch of sophistication.
Removable Aluminum Head: A highly polished head that can be detached as needed.
Sturdy Shaft: Crafted from a tough fiberglass carbon fiber composite, doubling as a self-defense tool.
Sharp Blade: The light and fast blade feature a tapered square cross-section with a sharp point.
Etsy
Etsy is a global marketplace for unique and creative goods, connecting a vibrant community of artisans and buyers. They focus on fostering creativity, supporting small businesses, and promoting sustainability. With a wide range of distinctive items, Etsy is a platform where human connection and imagination thrive, making every purchase a positive force for change.
My Favorites
Handmade Cane Sword by StormwindCity
Engraved Cane Sword by shadowbladestudio
Ebony Pattern Steel Cane Sword by RMCraftShopDesign
Victorian Style Cane Sword by TheWitchersDen